5 Best Snowshoe Trails Around Belgrade, MT

Best Snowshoe Trails Near Belgrade
When it comes to winter in Belgrade, there's no rule written that you have to stay cooped up in your house for a fourth of the year if you don't want to (but if you do, more on how to do that well here). It's more than possible to stay active and get out and about during the winter months— in fact, it's the norm here! You don't have to be shredding pow to take part in some outdoor adventure this winter. Plenty of locals and visitors alike are still able to hit the snow, get some fresh air, and exercise without ever strapping on a snowboard or a pair of skis. The answer? Snowshoeing of course!
Snowshoeing Outside of Belgrade
The snowshoe is an ancient invention, with some scholars believing it dates back even further than the wheel! Don't worry, the design and functionality of these handy shoes have come quite a long way and are easy to use. Whether you're looking to get the family out of the house on an easy stroll or really get your blood pumping up a more difficult trail, there are dozens of options for snowshoeing in and around the Belgrade area waiting for you.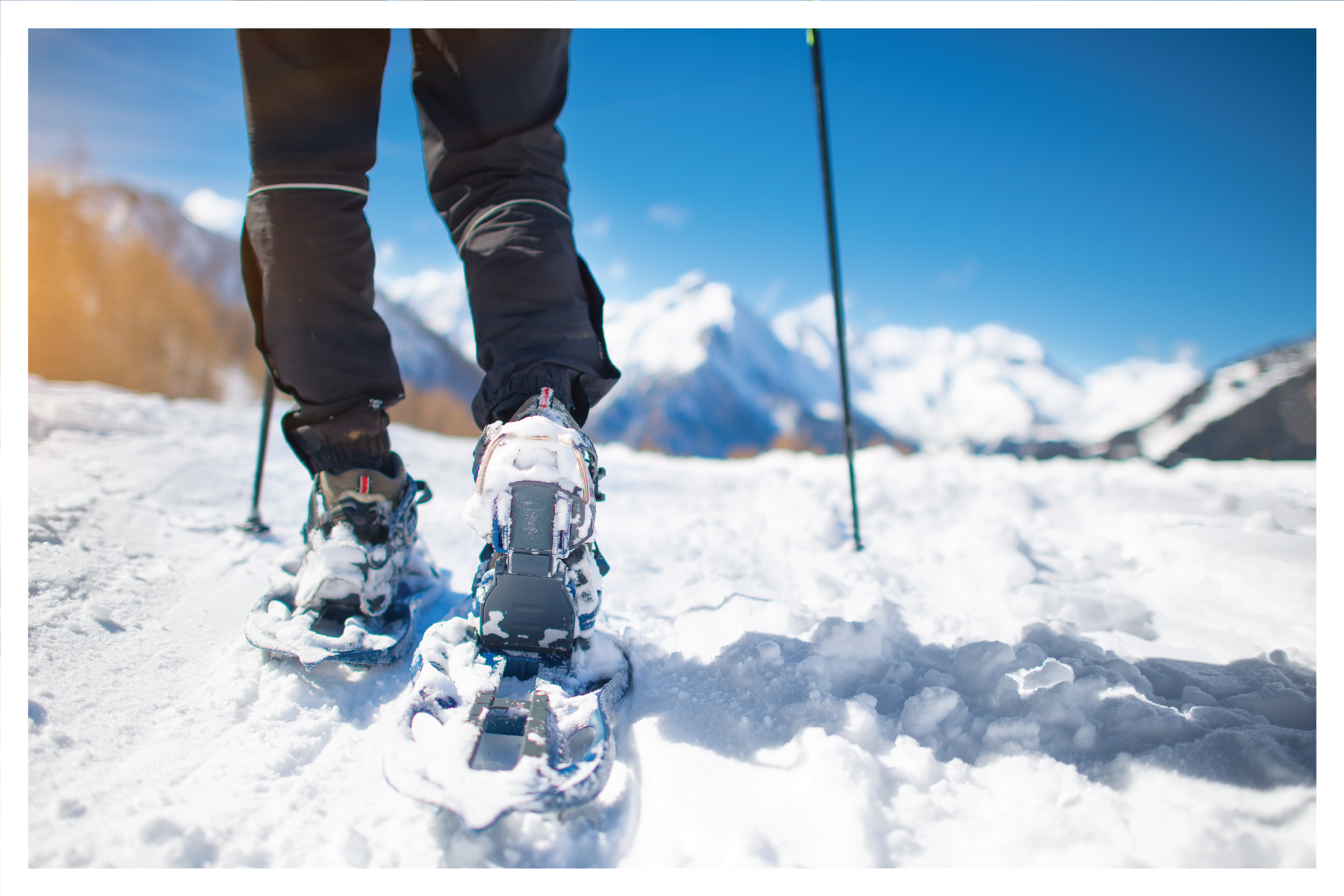 1. Crosscut Mountain Sports Center – Montana
We can't kick this list off without mentioning Crosscut Mountain Sports Center first. Tucked in the foothills of the Bridger Range, this location makes snowshoeing especially easy for the first-timer or moderate enthusiast. Snowshoe rentals are available on site, along with lessons from experts who will help you get comfortable with the technique before heading off on your adventure. There are dozens of trails to access that offer stunning views, from sprawling hillsides to deep-cut canyons. Much of the terrain is beginner to moderate level and offers an inviting first-time experience for amateurs and families. This location does require a pass to access, which you can purchase online here.
2. Hyalite Lake – Montana
Hyalite Lake is a great option for tons of reasons, our favorite being that there are three different trail options along the way for you to choose from. These kinds of locations are some of our favorites because they give snowshoers the ability to turn around if need be, or keep on trekking to more difficult endeavors if the group is feeling up for it. While these options make Hyalite practical, the incredible scenery will keep you coming back. If you've been to Hyalite in the summer, you know that it's one of the most stunning places the valley has to offer. In winter, Grotto and Arch falls sit still, their magnificent power frozen in place for breathtaking views. If you're lucky you may even spot a few ice climbers along the way. The round trip is no joke, clocking in at a whopping sixteen miles. Don't let this deter you, as there are plenty of beautiful sites close at hand, with the ability to turn around whenever you please.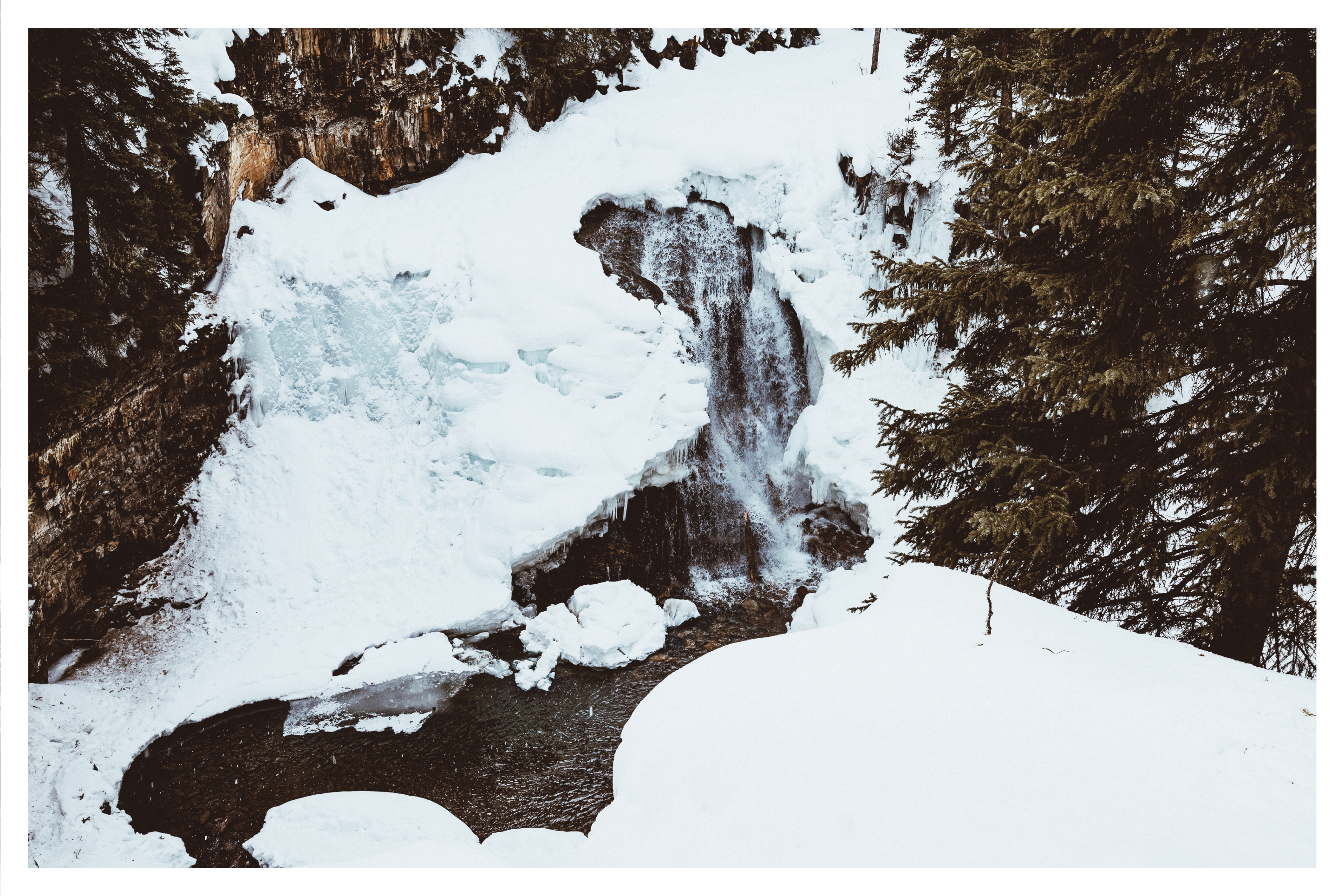 3. Ousel Falls – Montana
Ousel Falls offers the best of both worlds—combining infamous Montana views with a relatively easy out and back, 1.8-mile path with a very minor grade. The trail reaches its head at Ousel Falls, where snowshoers can marvel at the unbelievable nature around them. With such an easy route and a view that's worth the trek, this one is great for families with young children or beginners. If Ousel Falls is already ringing a bell, you know what we're about to suggest next. The trail is located in Big Sky, and we can't think of a better way to polish off a good sweat than with an ice cold beer from Beehive Basin or Lone Peak Brewery before heading back to Belgrade.
4. Chestnut Mountain – Montana
Last but most certainly not least is the Chestnut Mountain Trail. Hop on the interstate and you'll find yourself there in a mere twenty minutes. This trail's greatest draw is its offering of a quieter experience. Chestnut isn't as well known as some of the more major tourist attractions like Ousel Falls or the Crosscut, which is what makes it so great. The trail is wide with little to no passersby. However, it's exactly this reason that we wouldn't suggest the trail if this is your first time snowshoeing around Belgrade. With a moderate incline of about 2,200 feet for nearly five miles, it's definitely no Everest, but perhaps a little challenging for your first go at the sport.
Have you ever tried your hand at snowshoeing? If not, we definitely recommend it! It's a great way to get out and about this winter, and less intimidating than skiing or snowboarding for your first winter sport.
For more winter adventure ideas around Belgrade and Prescott Ranch, visit the rest of our blog.
https://prescottranch.bateshomes.com/wp-content/uploads/2021/09/Prescott_Snowshoeing_Blog_Images_1-scaled.jpg
1706
2560
Bates Homes
https://prescottranch.bateshomes.com/wp-content/uploads/2021/08/prescott-ranch-logo-black.svg
Bates Homes
2021-03-03 19:25:27
2023-01-31 22:54:51
5 Best Snowshoe Trails Around Belgrade, MT