Moving to Montana? Your Complete Home Buying Checklist

Are you moving to Montana? Regardless of where you are moving from, you'll need a complete home-buying checklist to help make your move to the Big Sky state as seamless as possible. After the chaos of the pandemic and its influence on the real estate market, things are finally settling down, and purchasing homes in Montana is easier and more affordable than ever before.
Save Up for a Down Payment
Your down payment is your first contribution to the home's purchase price. You pay this at closing. The remainder of the balance is paid by your mortgage lender. Ideally, a 20% down payment is a great goal to strive for. However, there are various loans that can lower your down payment. Being able to contribute a healthy down payment will lower your monthly payment and the overall total cost of your home.
Determine What You're Able to Afford
Figuring out your debt-to-income ratio is the first step toward creating a realistic budget and from there, determining what price range you'll be considering when you start to look at newly built homes in Belgrade, Montana. Make certain to include all of your recurring bills and anything that you pay on a month-to-month basis.
Securing a qualified mortgage from most lenders generally requires a DTI of no higher than 43%, so shoot for that as you analyze and rework your budget.
Build Breathing Room into Your Budget
Taking the step to purchase a newly built home in Belgrade, Montana is an exciting one and you want to be sure that you leave sufficient breathing room in your budget for other day-to-day living expenses such as entertainment, indoor and outdoor furniture, as well as unexpected expenses that come your way.
Types of Loans
You may be eligible for various government-backed loans such as FHA and VA loans. These let you contribute 3.5% and 0% of the home's purchase price (respectively). Conventional loans allow for down payments that may be as low as 3-5% as determined by the lender.
Here are other loans you might qualify for:
5/1 ARM Loan: this is an adjustable rate mortgage loan (ARM) that has a fixed rate for the first five years but then has a variable interest rate from the sixth year moving forward.
3-2-1 Buydown Mortgage: this loan charges a lower interest rate for the first three years of the loan. The first year is 3% less, the second year is 2% less, and the third year is 1% less. For the fourth year and beyond, the borrower pays the full interest rate on the loan.
Permanent Buydown: a permanent buydown allows the buyer to pay a large lump sum of cash to the lender to lower the monthly payments for the life of the loan. This is different than 5/1 ARM loans and 3-2-1 mortgages because interest rates are only lowered temporarily and not for the life of the loan.
Get to Know the Neighborhood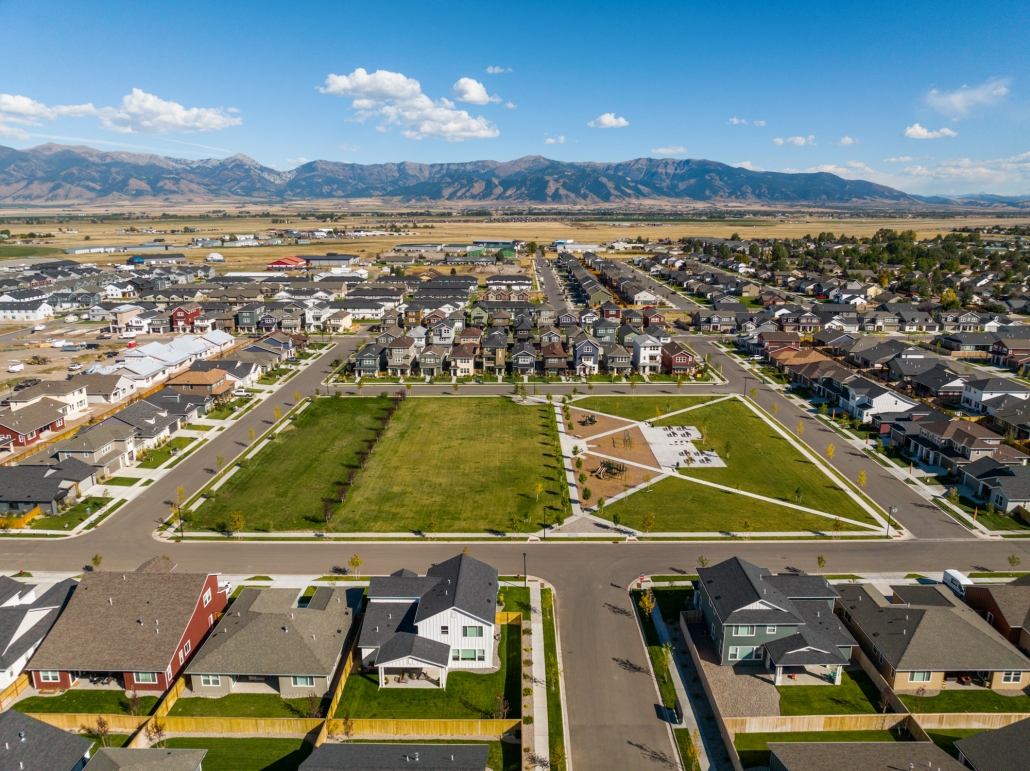 In many ways, the neighborhood where you decide to put down roots may be just as important as the home itself. Befriending neighbors, the schools your children will be attending, and your family's house of worship, as well as community events, are all a part of what constitutes content and thriving life. Montana neighborhoods are coveted for their unique offerings of both superior outdoor recreational opportunities combined with folks who take great pride in a small town and family values.
Homes Available at Prescott Ranch
The homes available at Prescott Ranch are crafted in a variety of floor plans designed to meet your needs. These newly built homes range from single stories to three stories with 12 total plans across three series: The Morgan, The Appaloosa, and The Lusitano. These Prescott Model Homes are poised at the foothills of the Bridger Mountains. The homes blend modern and traditional styles to create an elegance that is unmatched in the Belgrade area.    
People who live in Montana tend to be nature lovers and prefer to take advantage of the gorgeous scenery and the larger, greener blueprint of the geography in the area. That's why, with Prescott Model Homes, there is a comfortable and spacious spot for more than one vehicle. Each plan in the three series features either a two or three-car garage. Both the Appaloosa and Lusitano Series offer a more traditional look with garage bays as part of the front schematic while the Morgan plans are designed with the garage bays accessible along the back side of the home. You're sure to find your own personal preference within the intricacies of these unique home layouts.
https://prescottranch.bateshomes.com/wp-content/uploads/2022/12/Moving_to_Montana_Your_Complete_Home_Buying_Checklist1.jpeg
1415
2119
Bates Homes
https://prescottranch.bateshomes.com/wp-content/uploads/2021/08/prescott-ranch-logo-black.svg
Bates Homes
2022-12-22 01:15:50
2023-03-24 15:43:19
Moving to Montana? Your Complete Home Buying Checklist